The Fourth Doctor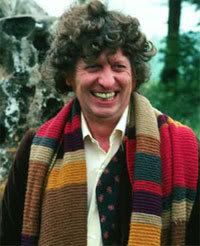 1974 - 1981


Regeneration:
After contracting radiation poisoning on the planet Metebelis 3, the Third Doctor makes his way back to UNIT headquarters, where the Time Lord K'Anpo Rinpoche aids him in regenerating.
In his new incarnation, the Doctor draws back from continuous involvement with UNIT (with which he had worked closely as the Third Doctor) and the Time Lords. Wanting to forever run and explore and be adventurous not wanting to have the resposibilities.
Appearance:
Imposingly tall, with eyes that seem to constantly boggle, a mass of curls for hair and prominently displayed teeth, the Doctor favours an outfit that usually consists of a shirt, waistcoat, wide-legged trousers, a frock coat (with pockets containing a seemingly endless array of apparently useless items that would nevertheless suit the Doctor's purposes when used), a wide-brimmed hat (on occasion) and, most famously, his impractically long, multicoloured striped scarf, which was apparently knitted for him by Madame Nostradamus (whom he refers to as a "witty little knitter").
Personality:
The Fourth Doctor is a natural bohemian who permanently left UNIT in order to return to a life of deep universal wandering. More so than his previous incarnations, he is thrilled by discovery and adventure. Galvanised by higher purpose, he is disarmingly loopy (constantly offering friends and foes jelly babies), brilliant and entirely serious, all at the same time. To an extent, the Fourth Doctor is the most unpredictable of his incarnations, befuddling all with his intelligence, constantly leaving others wondering if they have his full attention and using his more off the wall mannerisms against adversaries to distract them while arranging to take control of the situation.

Other personalities we see in the 4th Doctor:
Peace loving

Kind hearted

Anti-authoritarian

Low Tolerance

Intense

Whimsical

Callous

Condeming

Eccentric

Clever

Happy

Warm

Brilliant

Serious

Loopy

Humorous
Personality Quirks:
Always kept tons of stuff/souviners in his pockets

Liked to play with his yo-yo

Liked drinking Ginger Beer

Loved his jelly babies and offered them many times to many people

Liked to tinker around in the Tardis

Relied on using his sonic screwdriver

Was known for his Teeth and curly hair
Would you like a jelly a baby?

Hello-o-o-o

Off you go

Shut Up, K-9!
Key Life Events:
The Doctor regenerates.

Gains a new companion in Harry Sullivan and drives Bessie for the last time until his seventh incarnation.

The Doctor tries to prevent the creation of the Daleks and first encounters Davros.

The Doctor and the Brigadier work together for the last time before the Brigadier's retirement. Soon after, he discontinues his active involvement with UNIT.

Harry Sullivan departs and returns to UNIT though he briefly reunites with the Doctor soon after.

Sarah Jane Smith leaves and the Doctor returns to Gallifrey, where he defeats the Master Afterwards, he travels alone for a time.

Gains a new companion in Leela and sets out to be Professor Henry Higgins to her Eliza Doolittle .

Obtains his first robotic companion, K-9.

The Doctor assumes the office of Lord President on Gallifrey, fights back two invasions. Afterwards, Leela and K-9 choose to stay on Gallifrey; the Doctor begins assembling a second K-9.

The White Guardian puts the Doctor on his quest to find the Key to Time and introduces him to Romana, who is assigned to him as a new companion. Once defeated, the Black Guardian swears revenge.

The Doctor temporarily installs a randomizer into the TARDIS, intentionally making the vehicle's travels unpredictable.

Romana chooses to stay with the Doctor rather than return to Gallifrey, and regenerates into a new body.

En route to Gallifrey the TARDIS crew find themselves in E-Space where they find a new companion, Adric.

Romana and K-9 leave the Doctor before he returns to N-Space.

After gaining two new companions, Nyssa and Tegan Jovanka, the Doctor regenerates while saving the universe from a new incarnation of the Master.

The 4th Doctor was Portrayed by Tom Baker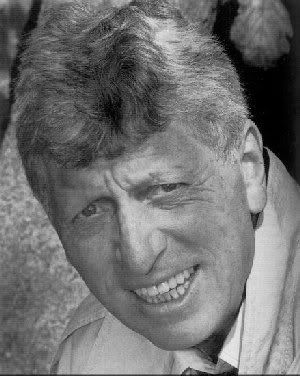 Born: Thomas Stewart Baker
Birth Date: January 20, 1934
Born In: Liverpool, England
Father: John Stewart Baker
Mother: Mary Jane Baker
Brother: John Baker
Sister: Lulu Baker
Spouse(s): Anne Wheatcroft 1961-1966, Lalla Ward 1981-1983, Sue Jarrard 1986 - Present
Son(s): Daneil and Piers Baker
TV Appearances:
1968 - Market in Honey Lane - as Unknown
1968 - George and the Dragon - as Porter
1968 - Z Cars - as Harry Russell
1968 - Dixon of Dock Green - as Foreman/The Man
1969 - Thirty-Minute Theatre - as Unknown
1970 - Softly Softly - as Site Foreman
1972 - Jackanory - as The Storyteller
1972 - Play of the Month - as Dr. Ahamed el Kabir
1973 - Frankenstein : The True Story - as Sea Captain
1973 - Disney Time - as Himself/The Host
1973 - Nouvelles de Henry James - Mark Ambient
1974 - Doctor Who - as The Doctor
1977 - Piccadilly Circus - as Mark
1977 - The Curse of King Tut's Tomb - as Hasan
1979 - The Book Tower - as Himself/Presenter
1982 - The Hound of Bakersville - as Sherlock Holmes
1983 - Jemima Shore Investigates - as Dr. Norman Ziegler
1984 - The Passionate Pilgram - as Sir Tom
1984 - Remington Steele - as Anatole Blaylock
1984 - The Zany Adventures of Robin Hood - as Sir Guy of Gisbourne
1986 - Blackadder 2 - as Captain Rum
1986 - The Life and Loves of a She-Devil - as Father Ferguson
1990 - The Silver Chair - as Puddleglum
1991 - Selling Hitler - as Manfred Fischer
1992 - Cluedo - as Professor Plum
1992 - Medics - as Prof. Geoffrey Hoyt
1994 - Punt and Denis - as Unknown
2000 - Randall and Hopkirk (Deceased) - as Wyvern
2000 - This Is Your Life - as Himself
2000 - Max Bear - as Max Bear
2000 - The Canterbury Tales - as Simpkin
2001 - Fun at the Funeral Parlour - as Quimby
2003 - Swiss Toni - as Derek Asquith
2003 - Strange - as Father Bernard
2003 - Fort Boyard - as Captain Baker
2003 - Little Britain - as Narrator
2004 - Monarch of the Glen - as Donald McDonald
2004 - Terry and Liz - as Narrator
2006 - Marple - as Fredrick Treves
2006 - The Wind in the Willows - as Judge's Voice
2007 - The Beeps - as Narrator
Film Appearances:
1968 - The Winter's Tale - as Unknown
1971 - Nicholas and Alexandra - as Rasputin
1972 - Racconti di Canterbury - as Jenkin
1973 - Luther - as Pope Leo X
1973 - Cari genitori - as Unknown
1973 - The Vault of Horror - as Moore
1973 - The Golden Voyage of Sinbad - as Koura
1974 - The Mutations - as Lynch
1991 - The Law Lord - as Sir Lional Sweeting
1998 - Backtime - as Sarge
2000 - Dungeons & Dragons - as Halvarth
2005 - The Magic Roundabout - as Zeebad (voice)