2008 PROMS: MUSIC OF THE SPHERES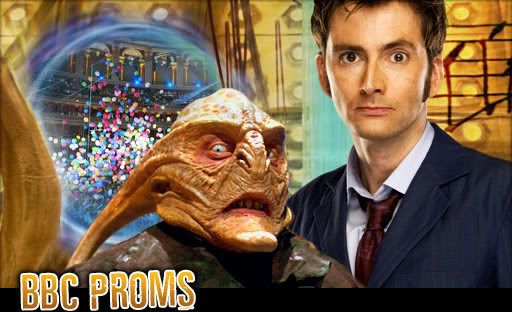 EPISODE:
Special
AIR DATE:

July 27, 2008


VILLAINS:
Graske
ALIENS/MONSTERS:
Graske
OTHER CHARACTERS:
N/A
LOCATION:
Tardis, 2008 Proms
PLOT:

The action takes place in the TARDIS and sees the return of the Graske (Jimmy Vee) who poses trouble for the Tenth Doctor (David Tennant) and The Proms.
The Doctor is composing and writing music on the TARDIS floor. The "Graske" comes to warn the Doctor about a space portal that appears in the TARDIS and comes out in the Royal Albert Hall.
The Doctor passes his music he composed through the portal and gets the orchestra to play it, the Graske goes through the portal but the Doctor pulls him back. The portal closes and the episode ends.