Well with Doctor Who now ended in the mid-season break and not returning until September the news in the Whoniverse is rather still. Hopefully we will hear some news of the highly anticipated upcoming episodes soon but until then there are a few things to watch out for in the mean time.
June 2011
- Well as far as I can tell there isn't much going on this month but I am sure we will be hearing a bit more on Torchwood Miracle Day.
July 2011
- On July 8, 2011 Torchwood: Miracle Day will air on Starz in the US and on BBC1 in the UK.
The fourth series of the British science fiction television series Torchwood, a spin-off from the long-running show Doctor Who of the BBC's drama production house BBC Cymru Wales, its international arm BBC Worldwide and US premium network Starz, will be broadcast over ten episodes starting July 8, 2011. In Canada, the show will be broadcast on Space. Most of the filming took place in Los Angeles, California with only two weeks being shot in Wales.
Early development rumours suggested that the fourth series would be a reboot of the show, and that it would air on the Fox net work in the United States. However, the deal with Fox did not go through and a new co-production deal with Starz was officially announced. (which for us here int the US means that we have to pay extra for the channel in order to watch the series, which I am not all that happy about!!). Creator and executive producer Russell T Davies clarified the focus of the series, stating "it's very much the next step. It's not a new version, it's not a reboot. We're simply moving countries." The second executive producer, Julie Gardner, described the new series as being "absolutely rebooted to welcome in a new audience". Can we say Conflicting statements??!! Series writer Jane Espenson clarified further, describing the series as strictly "a continuation of the UK show".
Writers for the series were confirmed as Russell T Davies, John Shiban, Doris Egan, Jane Espenson and John Fay. Espenson will write four episodes. Kelly Manners will be producing in the US, and Brian Minchin will do this job in the UK. The central plot is that suddenly, no one on Earth dies, and this provokes increasingly mixed reactions as the population soars. "What is society going to do now?", Davies poses.
Here is the Season 4 Synopsis:
When C.I.A. agent Rex Matheson investigates a global conspiracy, he finds himself unearthing a threat which challenges the entire Human race. The answers seem to lie within an old, secret British institute, known only as Torchwood. But Torchwood was destroyed, years ago, and the keys to the institute are held by its only two survivors - former Police Officer Gwen Cooper, who has long since disappeared along with her husband and child, and the mysterious Captain Jack Harkness, a man whose history seems to stretch back centuries.
With Rex under attack from all sides, in both the US and the UK, he soon discovers there are forces at work within every level of society, determined to stop Torchwood's return. As a chain of events across the world links together the most disparate and unlikely individuals - including a surgeon, a killer, senators and CEOs - a new Torchwood team takes shape. But this time, the threat is much closer to home, as they realize that their greatest enemy is mankind itself...
One day, nobody dies. All across the world, nobody dies. And then the next day, and the next, and the next, people keep aging -- they get hurt and sick -- but they never die. The result: a population boom, overnight. With all the extra people, resources are finite. It's said that in four months' time, the human race will cease to be viable. But this can't be a natural event – someone's got to be behind it. It's a race against time as C.I.A. agent Rex Matheson investigates a global conspiracy. The answers lie within an old, secret British institute. As Rex keeps asking "What is Torchwood?", he's drawn into a world of adventure, and a threat to change what it means to be human, forever.
See the Episode List Here

August 2011
- On August 19, 2011 the remake of the 1985 cult hit Fright Night comes to screens. The roles will be reprised by Colin Firth as the sinister yet seductive Vampire, Jerry Dandridge; Anton Yelchin as the boy next door, Charlie Brewster; and our favorite loveable sexy 10th Doctor,
David Tennant
will be playing Peter Vincent.
Here is the synopsis:

Senior Charley Brewster (Anton Yelchin) finally has it all—he's running with the popular crowd and dating the hottest girl in high school. In fact, he's so cool he's even dissing his best friend Ed (Christopher Mintz-Plasse). But trouble arrives when an intriguing stranger Jerry (Colin Farrell) moves in next door. He seems like a great guy at first, but there's something not quite right— yet no one, including Charley's mom (Toni Collette), seems to notice! After witnessing some very unusual activity, Charley comes to an unmistakable conclusion: Jerry is a vampire preying on his neighborhood. Unable to convince anyone that he's telling the truth, Charley has to find a way to get rid of the monster himself in this Craig Gillespie-helmed revamp of the comedy-horror classic.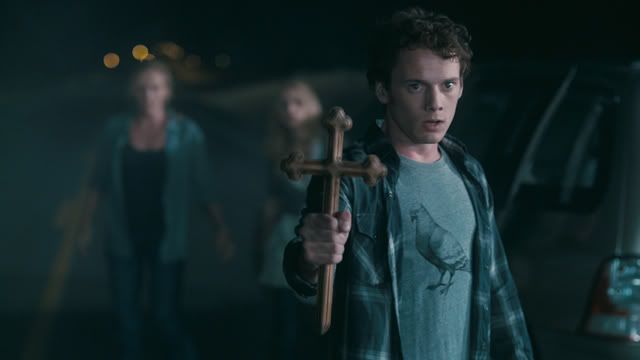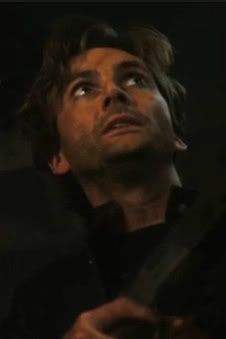 TrailerTV Spot
September 2011 - Although I do not know exactly what date, Doctor Who will be returning sometime in September 2011. After the way A Good Man Goes To War ended, I think it is safe to say that people are counting the days until we can all see what will happen next! Steven Moffet has defiantly rattled peoples brains with this series from the very beginning starting with witnessing the apparent death of The Doctor. Throughout the series there have been some major jaw dropping moments including the little girl starting to regenerate in an alley, Amy's pregnancy, The Tardis as a human and being called his wife, two doctor's one Gallifreyan the other a ganger, Amy that has been with Rory and the Doctor was indeed just flesh, the baby being part timelord, Amy reveling to the Doctor that he will die, The Doctor taking off in the Tardis leaving everyone behind, and the revelation of who River Song really is.
I am extremely curious to see exactly where Moffet is heading with all of this??!! In some episodes, I think he is trying a bit to hard to keep everyone off track it seems to go way off the winding road that it doesn't always make sense. We still need to find out who River actually kills, now so far my suspicions have not been to far off, but I am to think that it is The Doctor who she kills. However, how can that be possible? Could this mean the end of Doctor Who? And if River is part timelord, how was it that she was killed in season 4 with David Tenannt as The Doctor in Forest Of The Dead? So many questions and still so little answered. Well hopefully Steven Moffet with shed some light on these questions when the series returns in the fall.