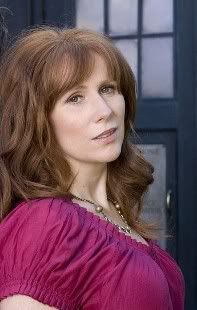 Cathrine Tate is being lined up for a shock Doctor Who comeback, TV Biz can reveal.
The 40-year-old comedy queen, who played the Time Lord's dippy sidekick Donna Noble, will reappear in one of four Who specials planned for next year.

And fans will be delighted — and a bit scared — to learn Life On Mars star John Simm, 38, is also back.

He will reprise his sinister role as The Master — the Doctor's sadistic rival Time Lord who was last seen dying in his arch-enemy's arms.

Bernard Cribbins, 79, who played Catherine's on-screen grandad Wilf will be back as well.
A show source said: "Fans will be delighted to see Catherine back. She was one of the wackiest companions of all time and she brought heaps of humour.

"And it's great to have John back — he and David Tennant have a real nemesis chemistry."
The last episode of this year's BBC1 series saw the Doctor wipe Donna's memory and return her to her family.

But our source said: "Anything can happen in Doctor Who. His assistants are always recurring and Donna is no exception. When you're a Time Lord you can go back to any point in history and meet whoever you want."

Next year's specials replace the normal series, suspended so that Tennant, 37, could take time out for stage roles.

But we hear the wild-eyebrowed Scot is close to signing for a new full series of the sci-fi hit for 2010.

Our source said: "David loves filming Doctor Who. The upcoming specials have given him more freedom to work on other projects this year and now he's ready to come back to film a proper series to go out in 2010."

Thanks to The Sun.....