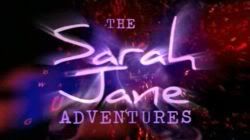 The following are the ltest released titles of the upcoming Sarah Jane Adventures for Season 2. Each episode will consist of 2 parts each as did the previous season. Also below are some more spoilers for everyone to enjoy.
1: The Last Sontaran - by Phil Ford.
2: Day of the Clown - by Phil Ford.
3: Secrets of the Stars - Gareth Roberts
4: The Mark of the Berserker - Joseph Lidster
5: The Temptation of Sarah Jane Smith - by Gareth Roberts
6: Enemy of the Bane - Phil Ford
SPOILERS!!!!!!!
"We're waving goodbye to Maria, Alan and Chrissie, as the Jacksons take their leave after the first story," Davies tells, "Though it's a busy old universe - don't be surprised if it's not the last you see of them! But life on Bannerman Road goes on - and that's where Rani comes in! The Chandra family soon arrives, with Rani's mother and father, Haresh and Gita. Can Sarah Jane have a quiet life, and stop her new neighbours becoming involved in her extraordinary adventures? Well, what do you think?!"Davies goes on, "There's a lot of focus on Luke and Clyde - we even get to meet the rest of the Langer family, and trouble's not far behind..."
"With a longer run than last year," Davies comments, "We've got a wide and bold range of stories. One's a sequel to a SJA story from last year. One's even a sequel to one of the Doctor's adventures! But as ever, there are new monsters, new villains, and new problems for the regular cast."
RTD also confirms the return of Nicholas Courtney, appears by Bradley Walsh (playing an alien with three identities) and Russ Abbott - as well as the return of Floella Benjamin (last seen in "The Lost Boy") and Samantha Bond as the villainous Mrs. Wormwood, who - through Bubbleshock! - attempted to conquer the world in nthe very first SJA "Invasion of the Bane".
Filming concluded on the series Friday August 2nd.