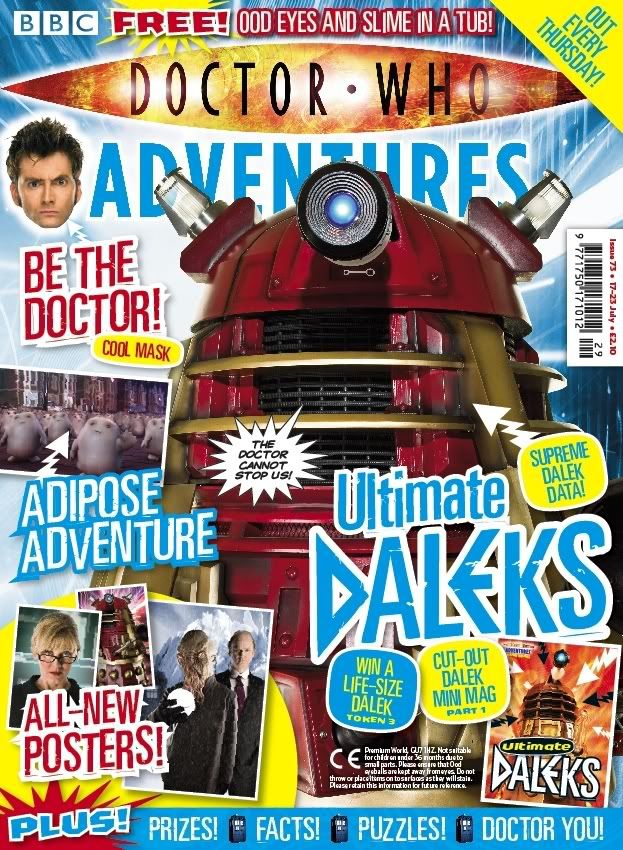 Want to know everything about the Daleks?

Be careful – in this week's exciting issue of Doctor Who Adventures, there are Daleks everywhere!

There's a fact file about the Supreme Dalek, one of the meanest Daleks around. We've also got part three of our win a life-size Dalek competition (he's worth over £2,000). And, there's the first part of a cut-out mini mag all about these frightening creatures – if you like Daleks, you can't afford to miss this Ultimate Daleks guide!

And the issue comes with an incredibly yucky gift – Ood slime and a set of Ood eyeballs. Bluuuurg!

ALL THIS PLUS:

• Three brilliant posters: The Supreme Dalek, Mr Halpen and an Ood and Matron Cofelia.
• Adventures Guide: Partners in Crime. Donna meets the Doctor again…
• Tales from the TARDIS: There's something on Donna's back in our scary scene from Turn Left.
• Quiz: A Quintus from Pompeii quiz!
• Make: a Doctor mask.
• Doctor's Data: Find out about the Sixth Doctor.
• Comic strip: In the year 3269, trouble is waiting for the Doctor and Donna.
• Time Teasers: Shadow Monsters and TARDIS Scanner…
• Win: lots of goodies – including Doctor Who DVDs.
• Subscription offer: Subscribe and you'll get a FREE Doctor Who –Creatures and Demons book!
• Find out... how to become a Time Agent and receive a free newsletter every week.
• ALL THIS AND LOADS MORE!

Doctor Who Adventures issue 73, priced £2.10, is out Thursday 17July.
The Ood slime is waiting for you…