Ok everyone!!! D day is here!!! lol D day get it...lmao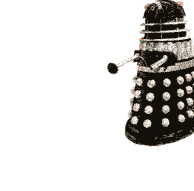 ok anyways..lol It is here only less then 4 hours before we get to see The Stolen Earth....I have had chills running down my back since last Saturday after watching the first trailer. This has been a long awaited episode and has caused a whole lot of media, hype, and speculation....

Will the Doctor and Rose finally get to see eachother? Which companion is to die? How did Davros survive? Where in the hell did all these Daleks come from? What is it with the bees disappearing? What exactly is the Shadow Proclamation and what can they do? How can Rose travel back and forth from alternate worlds? Will the Master come back?Are there still Timelords alive out there? So many questions and knowing RTD no real answers will be revealed this week...lol

I swear he loves seeing us at the edge of our seats squirming...lol Well I hope everyone enjoys it and I will have it up on my partner site asap....in the meantime, enjoy the trailers and clips once more.......