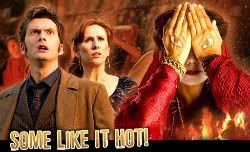 EPISODE: 194

AIR DATE: April 12, 2008

VILLIANS: Pyrovile, Sybilline Sisterhood, Lucius Petrus Dextrus
ALIENS/ MONSTERS: Pyrovile

OTHER CHARACTERS: Caecilius, Metella, Evelins, Quintus

LOCATION: Pompeii, Italy August 23, 79AD

PLOT:

The Doctor and Donna arrive believing it to be first century Rome. While walking the streets they come upon a single mountain, everything starts to rumble, it is an earthquake, The Doctor quickly realises they are in Pompeii the day before Mt. Vesuvius erupts! He and Donna run back to the TARDIS only to find it missing. The Doctor is told it has been sold to Lucius Caeilius Iucundus(Peter Capaldi), a marble merchant. When the Doctor and Donna arrive to Caecilius's home, they meet his wife Metella(Tracey Childs), his son Quintus(Francois Pandolfo), and his daughter Evelina(Francesca Fowler). The Doctor and Donna are identified by Evelina and the local soothsayer Lucius Petrus Dextrus(Phil Davis) with their future site given to them from breathing in the fumes of the mountain.

Donna later finds Evelina and tries to warn her about the volcano. While the high priestess of the Sybilline Sisterhood, she sends the sisters to capture Donna for sacrifice. In the meantime, The Doctor and Quintus break into Lucius's house only to be discovered by he and his men. The Doctor reveals that Lucius's arm is made of stone and he and Quintus run to safety as Lucius calls to the Pyroville to go after them. After Quintos helps defeat the Pyroville sent to destroy them, The Doctor realizes that Donna is missing, only to find her about to be sacrificed by the sisterhood. Donna is rescued.

The Doctor soon learns that Lucius and the sisterhood serve the Pyroville. The Doctor and Donna escape into Mt. Vesouvius, only to find that the mountain being the Pyroville's lair. he learns of their plot that endangers the entire planet and realizes it is he who makes the volcano erupt. After escaping, they run to the Tardis. Donna convinces The Doctor to save Caecilius and his family and The Doctor tells them Pompeii is never forgotten. Six months later you see Caecilius and his family all living a normal life and Quintus pays tribute to the house hold gods, The Doctor and Donna.