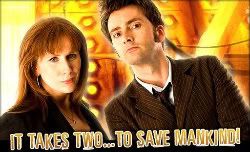 ALIENS/VILLAINS/MONSTERS:
The Adipose, Miss Foster
OTHER CHARACTERS:
Sylvia, Wilf, Penny
LOCATION:
London, England - Present time
In the first episode of season 30/series 4, Donna has become disenchanted with her normal day to day life and wishes she never said no to The Doctor when asked to travel with him. She has been investigating numerous different conspiracy theories in hope to find The Doctor once again. Confiding in her grandad, Wilfred Mott (Bernard Cribbins), she explains how she let The Doctor get away and how she is searching to find him again.
The concerns of Adipose Industries, which market a diet pill in London, have the slogan "And the fat just walks away". Seeing there has to be something wrong with the pills with a slogan like that, Donna and The Doctor investigate separately, unknowing to each of them that the other one is is there.While investigating, they find that the slogan is literal and and know that they must stop it.
When The Doctor and Donna do finally meet up during a funny mime scene, They are discovered by the evil Miss Foster (Sarah Lancashire), who is an alien intergalactic space nanny. Feeling threatened by The Doctor's mentioning of Galactic law and fear he shall go to the Shadow Proclamation, she sets her plans in full force. With Thousands of people in stake, The Doctor and Donna rush to stop Miss Foster from killing them. Succeeding in foiling her plot, the Adiposian first family come to Earth collecting their adipose children while killing Miss Foster to elevate any evidence of using Earth illegally.
Donna then accepts The Doctor's invitation to travel with him. She goes to place her mother's, Sylvia Noble (Jacqueling King), in a safe location and asks a woman to let her know where they are. When the woman turns, it is revealed that it is Rose Tyler(Billie Piper). She then turns and walks away disappearing into thin air. Donna runs back to the TARDIS asking The Doctor to fly by her grandad to wave goodbye.